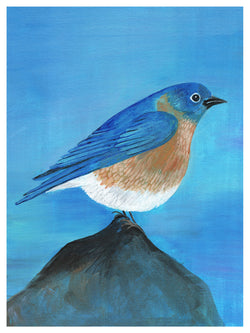 Original Artwork By Rachel Farabaugh
CALL UPON THE ANGELS TO ASSIST YOU AS YOU MOVE THROUGH DIFFICULTIES AND RETURN AGAIN TO JOY.
When Bluebird shows up, there is a high probability that Angels are with you. As messengers from the Heavenly realms, these sweet birds are omens of good luck. They have a tendancy to show up when you are at the end of a struggle and ready to move into the light that follows after darkness. Prepare to leave the difficulties behind as you enter into a new phase of love and lightness. As you clear away the deeper emotional layers, there is space to enter back into your natural state of joy. Let these beautiful messengers remind you that you are always supported by your Angels and guides, no matter how difficult life may feel. You are never alone and always have help. When it comes to communicating with Angels, make sure to ask them for help when you need it. They will never interfere but they will always assist when called upon. 
★ FROM THE SPIRIT ANIMAL WISDOM BOOK ★