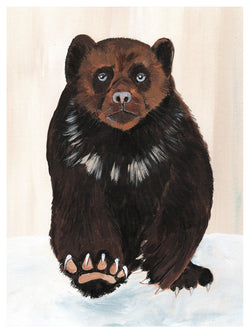 Original Artwork By Rachel Farabaugh
DO NOT BACK DOWN OR COMPROMISE. IT'S IMPORTANT TO STAND YOUR GROUND AND PROTECT IT FIERCELY.
Wolverine is perhaps one of the most aggressive animals that exists. The attitude and confidence of this powerful guide can be helpful when you need to channel your inner warrior. There are certain times in life that require toughness and grit, and this animal will help you to embody those qualities fearlessly. You are safe and protected as you face your challenges head on. Now is the time to be strong and stand your ground, and you can do this without getting angry or worked up. The best defense is when you are cool, calm and collected. Be direct but non-confrontational. Be clear in your boundaries and strong in the expression of your needs. Do not surrender or back down and you will persevere over whatever obstacles you are facing. Your determination and commitment will ensure that you triumph over all odds.
★ FROM THE SPIRIT ANIMAL WISDOM BOOK ★