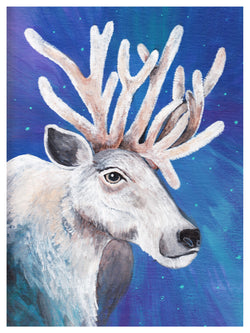 Original Artwork By Rachel Farabaugh
Move forward without hesitation. Stay committed and dedicated to the path you've chosen.
Reindeer is a powerful being that can endure harsh conditions without complaint. These animals survive in some of the most extreme environments and yet they maintain a joyful and optimistic outlook. This is a reminder for you to continue on your journey and not give up, no matter how hard it gets. Stay strong and know that you are almost there. Move forward without hesitation and stay committed to the path you've chosen. Your dedication and hard work will pay off. When you need the stamina and strength to continue on, let Reindeer be your guide. You have what it takes to persevere and finish what you've started. Don't forget to laugh along the way and remember that the bumps are part of the adventure. Have fun and keep a positive mindset. You are incredibly close so do not give up when you have made it this far.
★ FROM THE SPIRIT ANIMAL WISDOM BOOK ★