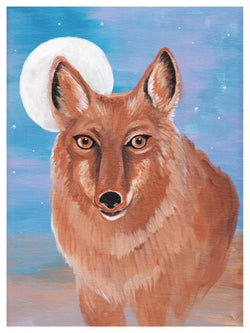 Original Artwork By Rachel Farabaugh
Let this be a joyful reminder to have more fun, lighten up and stop taking life so seriously.
Coyote is a reminder to lighten up and stop taking life so seriously. As the known tricksters of the animal kingdom, Coyote possesses a great intelligence and wisdom in the form of playfulness and lightheartedness. Coyote shows us how to truly live in the present moment. They are a reminder to find more balance between work and play. Now is a great time to let go of the constant stress and worry that no longer serves you. Remember that life is meant to be fun! If you aren't having fun, then what's the point of living? Focus on the things that bring you pleasure and joy, and you will be more aligned with the positive aspects of your life. Dream about what it is you want to create rather than dwelling on the thoughts that bring you down. Let Coyote guide you back into your heart and help you tap into your childlike nature.
★ FROM THE SPIRIT ANIMAL WISDOM BOOK ★