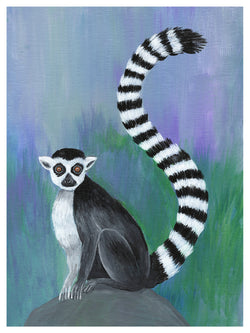 Original Artwork By Rachel Farabaugh
Keep a sense of humor as you navigate through the adventures of life's ups and downs.
Lemurs are wise and yet they possess an incredible sense of humor that allows them to not take life too seriously. They are playful and full of adventure. Make sure that you are not becoming too serious as you progress throughout your own life. Make more time for silliness, laughter and spontaneity. Let go of control and learn to go with the flow, and this will allow you to navigate the ups and downs with a smile on your face. When you realize that all experiences (good and bad) are meant to strengthen you, it will help you to appreciate the bumps along the way. Everything is a lesson meant to sharpen our souls and provide us with growth and wisdom. Lemur is an excellent advisor when it comes to dealing with the black and white of life and learning to find balance in between. Above all, make sure you enjoy the journey and have fun!
★ FROM THE SPIRIT ANIMAL WISDOM BOOK ★